A big part of a full bathroom renovation is what style of bathtub to use. There are many choices and it depends on the size of the bathroom and the final look you are seeking. But here are some style choices to consider when you discuss your bathroom renovation with Noah Construction and Builders.
Alcove baths
Alcove baths are placed in an inset area or alcove of the bathroom. The tub is typically paired with either ceramic tile, marble panels, or you can use an acrylic surround for cost savings. Alcoves are nice for shared bathrooms because a second person can use the bathroom without interference, and with a privacy glass door or shower curtain the person in the bath can have some privacy.
Freestanding tubs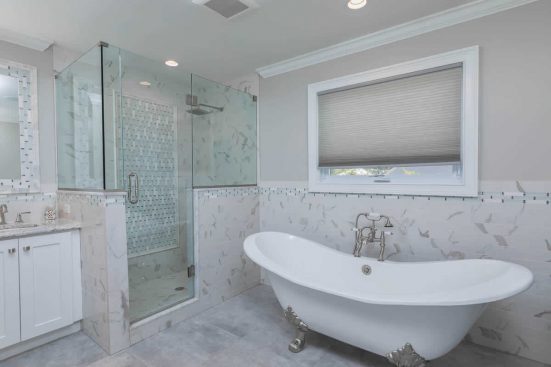 Freestanding tubs can be much more modern than the old "claw foot" tubs of the past, although some people will look for older tubs and recondition them for a nostalgic look. A freestanding tub can be placed against a wall but is typically set with some room around it. These tubs work well with a separate walk-in shower, so a larger bathroom will be best suited for it.
Drop-in tubs
A drop-in tub is normally placed in an elevated cabinet or surround which allows the tub and plumbing to be at floor level or just below it. Drop-ins can take up a bit of floor space so they work best in larger bathrooms. If you are designing a deck-mounted tub, leave room around it for getting in and out, managing any splashes, and having some room for soaps and bath oils.
Massaging tubs
Massaging or whirlpool tubs are a luxurious option if you are looking to create a spa atmosphere at home. These tubs work with powerful air or water jets that require some additional equipment and plumbing. The cost for a whirlpool tub is also higher than a standard tub.
Walk-in tubs
These tubs offer a larger side door which is waterproof when closed, allowing a person to walk into the tub then sit down. They are normally installed against a wall. These are excellent for people with disabilities or who are unable to step into a normal tub. Walk-in tubs can be ordered with our without massage jets.
Noah Construction and Builders has been satisfying our customers as a family-owned business with over 40 years of combined experience. We specialize in kitchens and bath renovations but can handle any job large or small including a full home renovation or new construction. Before you start your next home improvement project, call us for an estimate at 631-750-2837.