You've made the decision to renovate your home or maybe you're still deciding. But where do you start? It can be confusing and overwhelming. We understand your pain and get these questions all the time from our clients. So, to make things easy, we've outlined the three most common questions we get and then explain our unique process to help simplify everything for you. And showcase what truly makes working with Noah Construction different. 
Common Questions…and Answers:
Who do I contact first? With most contractors you need to have architectural plans before they'll even talk to you. So, if you look online most information might point you to an architect. The challenge here is you might create plans but then have no idea how much or how long it will take to build your home. That almost seems backwards doesn't it? Spending time and $ on plans to not know how much your renovation costs? 
Do architects know costs? Short answer, no. Experienced architects might be able to provide a VERY rough range but they do not know how much materials & labor costs.  
How much does it cost? One of the biggest challenges is architects don't know costs but contractors CAN'T provide costs until they see plans. Crazy right! That doesn't seem efficient. Since we design, create plans and build we're your one stop shop to help answer all your questions and provide costs UPFRONT so you know from the beginning what to expect. 
The Noah Way
Since we're the only true "design and build" firm on Long Island, we have a simple three step process which matches your needs, dreams and budget. We're obsessed with helping our clients get what they want and we partner with you throughout the entire construction process.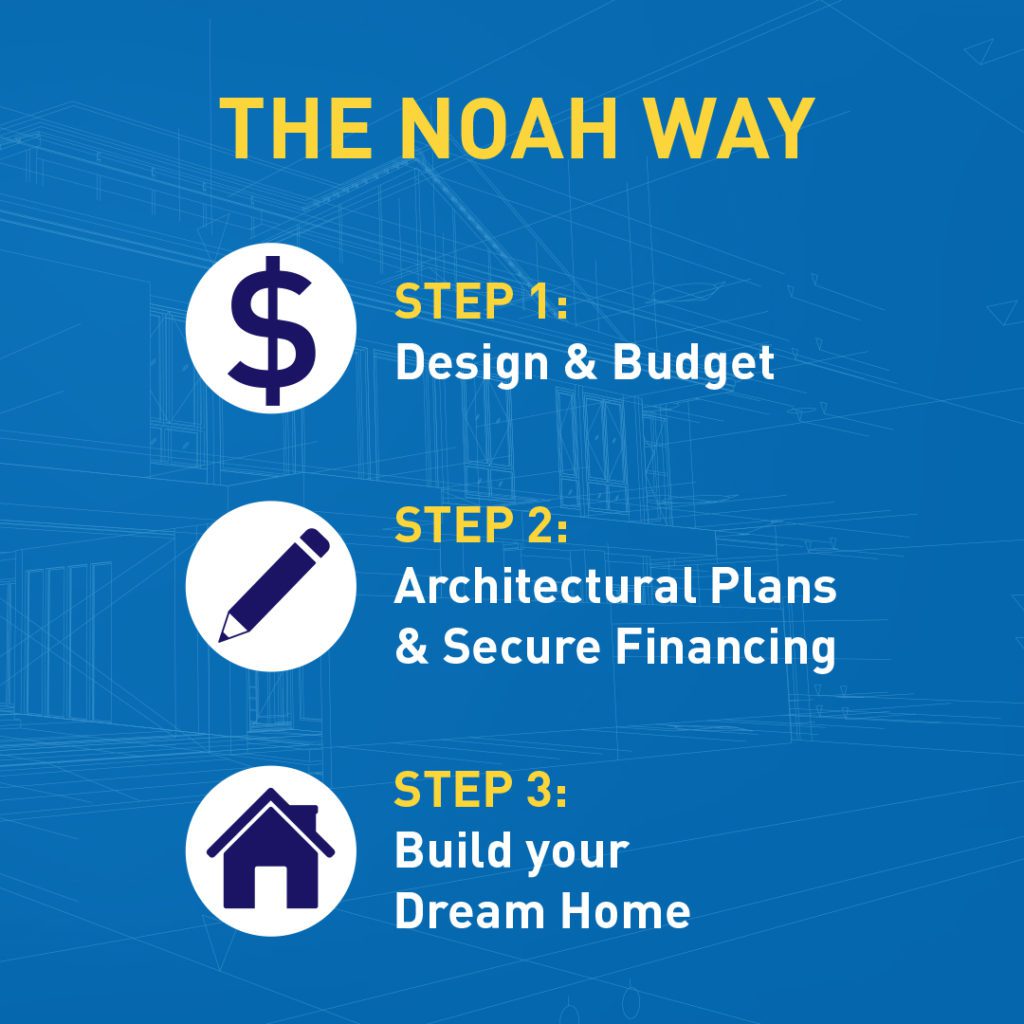 Step 1: Design & Budget
Starting a project off right is critical. We partner with you to design your home based on your budget and needs. That means working through your budget and showing you how or where we can design your home and get you to a price point you're comfortable with. Let's face it, "budget" can be a scary word…but not with us because we listen to your wish list and start working on solutions to solve issues with space and functionality. 
Step 2: Architectural Plans
With a clear design and budget in place we begin creating your architectural plans. This means no need for an outside architect. Which saves you valuable time and $. Plus, it keeps you moving forward to the finished product. And what could be better than having your builder and architect together from the start with your best interests at heart. This is truly a unique process that no other company can match. 
Step 3: Building Your Dream Home
Once plans and permits are approved, building your dream home begins. We work tirelessly to keep your project on track, on budget and with an attention to detail that's second to none. And throughout this entire process you get access to our talented "design & build" team who's with you each step of the way.
If you're thinking of renovating or just have questions, we are here to help. We take pride in being 100% transparent with our customers and our ultimate goal is your happiness. Give us a call at 631.750.2837 and you won't regret it!
Contact Us