Square Foot Pricing is just a Ball Park
A question I get often is how much do you charge per Sq Ft. Being in this Business for over 30 years I can tell you Sq Ft prices are only ballpark numbers to start with. For example, if you apply the Sq Ft principle to let's say buying a car, you could have a Honda Civic and a Ferrari, now they are both very close in size or (Sq Ft) but one's $30k while the other is $400k. Why? Because the Ferrari is all custom and higher-end finishes. The same goes for homes, you can have a basic 1000 Sq Ft dormer plain no gables, low budget materials, all carpeting, no recessed lighting and pay a lower price. Or you can upgrade that same dormer and add 2 additional baths, large gables, arch top windows, Portico, upgraded siding and roofing, oak floors throughout. So each job needs to be broken down individually to meet the client's needs and budget. We can give you a ballpark Sq Ft price over the phone, but in order to really give you the right price we need to see the home, discuss your needs, and tailor your home to meet your criteria. Remember every family and home is different. With this being said I wrote out a simple plan to help clients budget for their next home renovation using a Sq Ft method.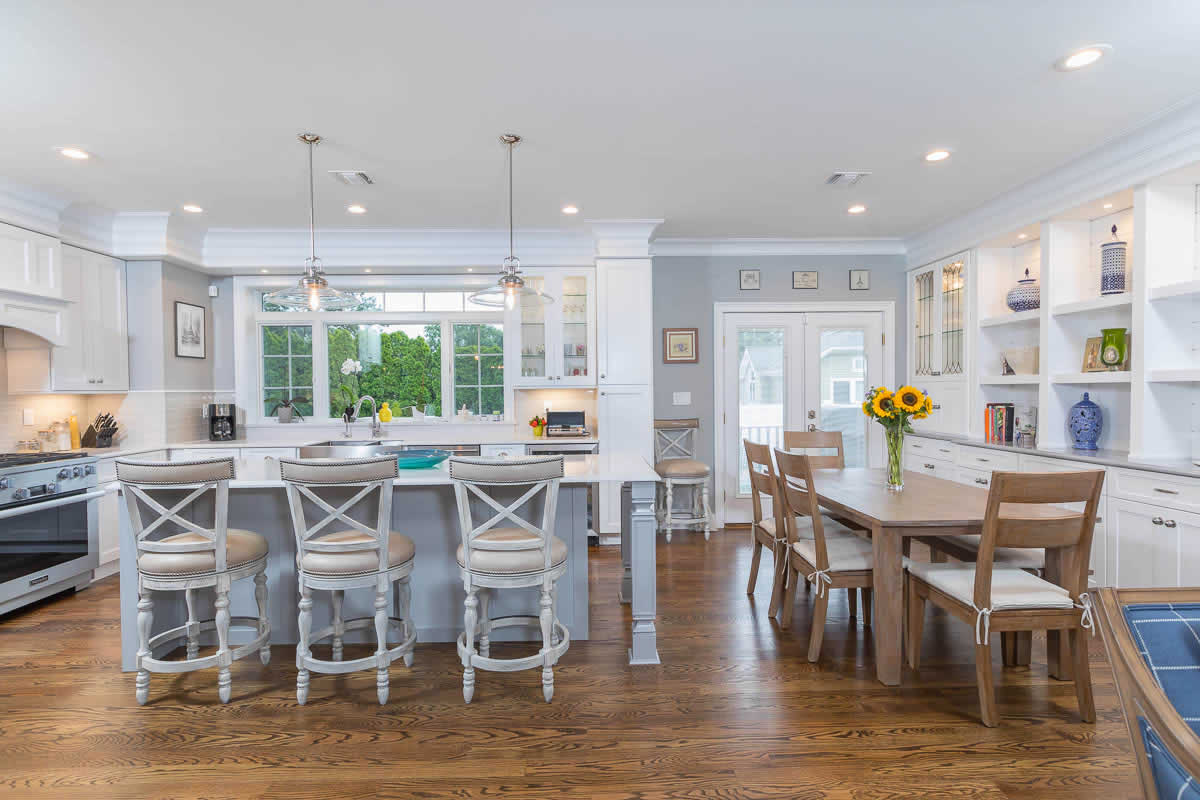 A ballpark budget of a full home remodel in Nassau/Suffolk ranges from $150-$250 per square foot, according to general contractors from Sweeten, a free service matching homeowners with vetted contractors. These estimated costs per square foot are for the entire home (including materials) averaged across both "wet" spaces (baths and kitchens), and "dry" spaces (living rooms, bedrooms, offices, etc). In a typical cost breakdown, dry spaces average $30-$50 per square foot, while baths start at $400 per square foot and kitchens start at $250 per square foot. Read on for the breakdown of gut or non-gut renovation costs.
Comparing Costs: Gut or Non-Gut
When gut renovating a whole home, the building's current conditions, alteration requirements, spatial challenges, and range of material selections should be considered.
The term "gut renovation" is often used informally for any project where all of the visible surfaces in a room are replaced, but technically, in a gut renovation, interior walls are stripped down to the studs and framing, or knocked out entirely.
A gut will start at the higher end of the $150-$200 per square foot (psf) range, while a renovation in which you re-do the space within the existing walls will be on the lower end. For example, in a 700-square-foot one-bedroom apartment, a renovation will come in around the $50,000-$70,000 range, while a gut renovation will likely exceed $100,000. The non-gut renovation may involve a new kitchen and bath, as well as refinishing flooring, re-plastering, and painting, plus upgrades in materials and finishes. The gut renovation will include the above as well as more extensive work such as replacing walls, installing new piping and wiring systems, moving doorways, and installing all new flooring. Given that New York City apartments vary widely and can present unique challenges, a per-square-foot estimate is merely a ballpark figure for you to get started. Here's an overview:
Straightforward Costs of Home Renovation
When estimating price per square foot, the scope of work usually includes the following:
Basic demolition
Framing: the skeletal, load-bearing structure to which the interior walls and other systems are attached
Insulation and drywall
Wiring, including basic to code outlets and switches
Basic Plumbing
Heating/cooling systems
You'll notice this doesn't include Plans/Expediting, kitchen appliances, or kitchen cabinets and countertops. Also, the choices you make in the visible materials, such as tile, flooring, millwork, paint, lighting fixtures, electronics, and other finishes, can significantly affect the price of your renovation. All these listed above are added in above the Sq Ft price of the project.
At the $150–$200 psf range, for example, materials are generally prefabricated or stock items and in finishes that are available at common retail outlets. Cabinets in this price range will usually be made of MDF (medium-density fiberboard), while tiling will run under $10 psf. Lighting will be standard but solid basics, while hardware can be as low a few dollars apiece. You'll be able to include solid wood floors, but they may be shorter and narrower planks made of less expensive woods. The work will be careful, clean, and well-installed at this level, whereas projects completed for under $150 may show subpar labor and obvious shortcuts.
Next, at $200–$250 psf, there is some customization on details such as joints, millwork, and hardware. Cabinets in this price range are custom or semi-custom and can include built-ins. You'll also see natural stone or desirable man-made countertops such as Caesarstone or Corian at this level, as well as solid, wide-planked hardwood flooring. Projects at this price point are not usually gut renovations, but rather renovations that focus on the space within the existing walls.
BEYOND BASICS
If you are paying $300 psf or above, chances are there may be complicating factors such as layout changes or structural work, such as combining apartments. Moving walls, Steel I-beams, adding staircases, shifting gas and plumbing, and electrical rewiring all contribute to a higher per-square-foot cost, as well as adding to the behind-the-scenes expenditures (more on that below). And since pricing for kitchens and baths runs higher than other rooms, more of those equal a higher price per square foot. For example, renovating a 1,000-square-foot apartment that has three bathrooms will be more expensive than an apartment of the same size with just one bathroom.
At this level and beyond, you can expect to see more extensive customization, fine finishes, and luxurious materials such as handmade tile, exotic wood grains, natural stone, and bespoke millwork details that complement the architecture of the home. You might also see custom door casements and extensive lighting details at this level. There won't be much in the way of off-the-shelf materials, and the workmanship should be top-notch. Renovations that hit all of these notes can easily run over $500 psf.
Behind-the-Scenes Costs of Home Renovation
In contrast to the costs attached to the visible material aspects of your renovation, pricing for the many "unseen" costs can be more difficult for the average homeowner to anticipate. While labor is a clear one, you should take into account that different forms of labor can be priced very differently. Wiring and plumbing work, for example, tends to be expensive. And unlike materials, which can be within the homeowner's control, many of these types of labor remain fairly fixed in price. As an example, plumbing for each fixture generally runs between $1,500–$2,000 apiece so it will cost at least $4,500 for a licensed plumber to run new lines for a sink, toilet, and bathtub. In general contracting, skim coating, a technique that hides a wall's uneven appearance and imperfections, and gives the smoothest surface possible, is the most expensive type of labor. In some cases, it can be more affordable to tear down old walls and put up new drywall.
Additionally, you should note that from the contractor's perspective, "labor" on the budget proposal may include not only the hourly rate they pay their workers, but also insurance, license, and other overhead fees that keep their business running.
Other unseen aspects that may contribute to higher per-square-foot expenditures:
DESIGN
Depending on your general contractor and your level of involvement in the project, you may also need/want professional design services. There are other scenarios in which an architect is required, including to apply for permits, navigate a complicated approval system, or meet insurance coverage requirements. Architects can charge a flat fee or a percentage of the total project. Another option is to hire a design/build firm, like us which combines design and construction services within one fee and contract. In these cases, the firm's principal is capable of both aspects of the job, or a dedicated designer is on staff or on retainer.
SITE PREP
This is one aspect that often causes unexpected budget problems. Depending on the state of the original space, you may need to do extensive preparatory work after demolition but before any installation can begin. Older apartments will almost always require stripping, leveling, and plastering. Uneven floors and walls must be leveled before cabinets can be hung, doors framed, or tiling installed. These costs are determined by the general contractor once he or she has a chance to examine your space.
BUDGETING SMART
Once you've accounted for each line item in your budget, allocate an additional 10 to 15 percent as a cushion. Projects often come in over budget as a result of unforeseen circumstances, and this will ensure that you will still have enough in the bank to complete the renovation.
Many factors go into the per-square-foot estimates. If you're trying to come up with a plan to match your budget, here are some tips from contractors and renovators:
Mix high and low: This refers to materials, which should be selected for maximum impact. You may choose a handmade tile for the kitchen backsplash while sticking to an off-the-shelf option for the second bath. Make a custom statement where it will really get noticed, and use standard materials where it won't.
Don't skimp on plumbing and electrical infrastructure: While these aspects probably won't garner any compliments at your dinner party, you still need licensed and qualified experts for these jobs. If you don't, there may be pricey problems to deal with in the long run.
Focus on kitchens and baths: Spend your money here! These rooms have the most resale value potential.
Consult experts upfront: If you are inclined to hire an architect or designer for a major transformation, getting him or her onboard early may help to save money on your project by mapping out more of a clear plan to avoid changes mid-stream. Set aside 15 to 20 percent of your budget for this professional. In general, hiring licensed professionals early is a cost-effective way to prevent insurance headaches later on by using their expertise to avoid common mistakes which lead to delays.
Calculating your home renovation can be tricky, even with per-square-foot guidelines from past projects. We hope this detailed breakdown is helpful for you to manage a budget. Not sure how to start your renovation? Call us today, we can help.
Long Island Home Renovations