Have you been wanting to upgrade from that simple grill and picnic table setup to a fully functional outdoor dining area that will be the talk of the town? Well, you're not alone, in fact the NKBA recently reported that over 60% of homeowners are interested in adding an outdoor kitchen. This demand is driven by several factors with the belief that it can contribute to an increase in home value topping the list (homes with outdoor kitchens sell for close to 30% more according to Zillow)! Below we outline some of the benefits that are leading homeowners to consider incorporating this into their design plans.
Host With The Most
What do summer celebrations like graduation parties, Memorial Day, and 4th of July all have in common? We generally associate these events with outdoor gatherings enjoying the nice weather with our friends and family. Now imagine how much easier it'll be to entertain with a newly built backyard kitchen that's equipped with plenty of seating for guests and a grill with a prep area. The logistical convenience of having a place to prepare the food outside means the cook will be able to participate in the fun as opposed to being forced to make constant trips into the house to get ingredients.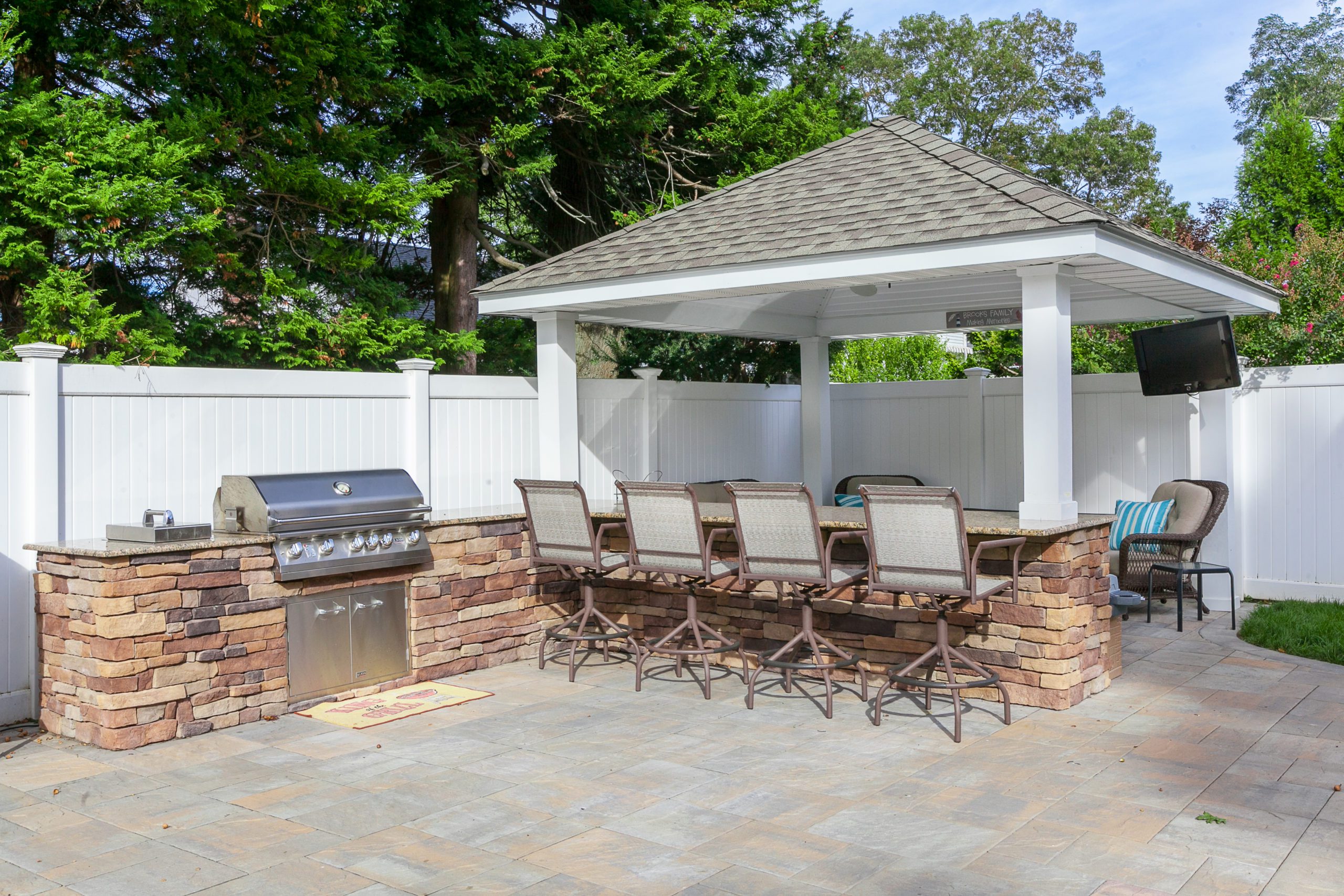 Keep Your Home Cooler & Cleaner
Similarly, moving the cooking space outdoors will allow you to give your regular kitchen a break. This will in turn keep your home much cooler because you won't need to use your regular stove or oven and distribute added heat throughout the home allowing you to turn down the A/C and ultimately, cut back on energy consumption, saving you money over time.
Additionally, moving the party outside will keep your home much cleaner because you won't have to invite guests in other than to use the restroom which will keep the mess to a minimum. Also, since you won't be cooking inside there will be no lingering odors spreading through the house keeping the air quality fresher.
Make It Your Own
Arguably, the best part about a project like this is the ability to customize the setup to whatever you're into. For example, add features like a beverage cooler for easy access or pizza oven so you'll have more options on the menu to go with the usual hamburgers, hot dogs, and steaks. If you're a sports fanatic, transform the backyard into your very own tailgate experience by installing a TV to watch the big game and avoid the hassles associated with actually going to the game like paying for tickets and parking, not to mention the inconvenience of packing and lugging the food and drinks with you.
Get Started Today
If this is something you'd like to include in your next renovation project, start planning now so it'll be ready by next Spring or Summer. Give us a call at 631.750.2837 to schedule a consultation with our experienced team and we'll help bring your vision to life.
Contact Us